Bureau History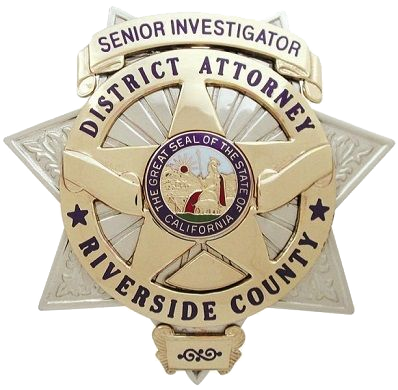 The Bureau of Investigation traces its roots to 1947, when newly elected District Attorney William Mackey hired two investigators to help prepare cases prosecuted in his office. Before that, when law enforcement agencies brought cases for prosecution they also handled the investigation of those cases.
These first two investigators were Archie Vandervallen, who had been a motorcycle officer with the Corona Police Department in the early 1930's and then a deputy in the Riverside County Sheriff's Department, and Investigator Kelly, who had no prior law enforcement experience.

In 1949, Mackey hired Lloyd (Pinky) Bowler to work in the eastern area of the county. Bowler had been the first chief of police in Palm Springs, for what was then called the "Palm Springs Police Protective District" (1938 to 1939), and worked as a lieutenant in the Sheriff's Department before joining the District Attorney's Office.

During the 1950s, only half a dozen investigators worked cases countywide - rotating assignments on a monthly basis to handle casework in Indio and Blythe. They prepared cases for trial, served subpoenas, and handled political investigations. There were courthouses in Riverside and Indio, but Justices of the Peace handled matters in Corona, Banning, and Hemet.

In 1967, newly elected District Attorney Byron Morton appointed Paul Lewis as the first chief investigator of the Bureau. Lewis started his law enforcement career in 1951 with the Riverside County Sheriff's Department and came to the DA's Office in 1957. When Lewis retired as chief investigator in 1979, there were 20 investigators countywide - one each in Blythe and Corona; four in Indio; and the remaining 14 in Riverside.

Michael Bell followed Lewis in 1979 and 1980. And after Bell came Thomas Evans (1980-1983), who had worked as a DA investigator since 1962. Next at the helm was Allan Lynch, who had been Assistant Chief, and served as Acting Chief Investigator from January 1983 to February 1984.

In March 1984, newly elected District Attorney Grover Trask appointed Michael J. (Joe) Curfman to manage the investigative staff. Under his direction, the Bureau sought experienced investigators not only from Riverside County law enforcement agencies but also from agencies throughout California. During Chief Curfman's 20 years, the size of the investigative staff increased to 125: 78 investigators, plus investigative technicians, forensic technicians, and clerical support staff. This workforce fully staffed the District Attorney's offices in Blythe, Indio, Riverside Main, Riverside Juvenile, and Temecula.

In September 2004, Chief Curfman retired and Clay W. Hodson was appointed to the position by District Attorney Grover Trask. Hodson's previous career included serving as the Bureau's assistant chief investigator for 14 years (seven years in Indio and seven in Riverside), a supervising investigator for five years, a senior DA investigator for two years, and as an officer and detective in the Whittier Police Department for 14 years.

In June 2007, Chief Hodson retired and newly elected District Attorney Rod Pacheco appointed Victor Greene to manage the investigative staff.   Chief Greene's previous career included serving as the Bureau's assistant chief investigator and a supervising investigator for more than six years, as a senior DA investigator for two years, as a Riverside County sheriff's deputy for 12 years, as a military police reserve sergeant in the United States Air Force for 17 years, a military police patrolman, investigator and sergeant in the United States Marines for six years. Chief Greene served with distinction until his retirement in 2008. 

In September 2008, District Attorney Rod Pacheco appointed Vern Horst as Chief of the Bureau of Investigation. Chief Horst had been a law enforcement officer since age 19. At 19, while on active duty in the United States Marine Corps, he was hired as a reserve police officer for the city of Orange. Chief Horst served as a police officer in Orange County until 1989 when he went to work as a deputy sheriff for the Riverside County Sheriff's Department.  As a detective, he worked homicide and violent assault investigations until he promoted to sergeant. In 2006, Chief Horst left the Sheriff's Department as a lieutenant and was hired by the District Attorney's office as a supervising investigator. 

In January 2011, District Attorney Paul E. Zellerbach appointed retired Chief Clay Hodson as his new Chief Investigator.
In April 2012, District Attorney Paul Zellerbach appointed Michael P. Moriarty as Chief of the Bureau of Investigation. Chief Moriarty was born in Pittsburgh, Pennsylvania. He obtained a Bachelors of Arts degree in Criminology, and moved to Los Angeles to join the Los Angeles Police Department in January 1981. Chief Moriarty had a successful career with the LAPD rising in the ranks from police officer to commander.  He spent the majority of his career in the investigative function in such varied assignments as Gang Enforcement, Homicide, Street and Major Narcotics, Internal Affairs and Public Corruption. He spent his last ten years in senior management as the Commanding Officer of several patrol, area and Specialized Investigation Division. His last assignment was the Assistant Commanding Officer of the Detective Bureau in charge of the Specialized Detective Divisions and the Crime Lab before coming to the Riverside County DA's Office.

In February 2015, newly elected District Attorney Michael Hestrin appointed Joseph DelGiudice as Chief of the Bureau of Investigation. Chief DelGiudice was born and raised in Los Angeles County and moved to the Inland Empire to attend the University of California, Riverside. After obtaining his Bachelor of Science degree in Environmental Science, he began his law enforcement career with the University of California Police Department. During his tenure with UCPD, Joseph worked uniformed patrol on campus and Eastside Riverside. He also began studies at the California State University, San Bernardino, where he obtained a Master's Degree in Public Administration. Joseph last held the rank of detective sergeant before joining the District Attorney's Office as a Senior Investigator in 2004. Joseph's investigative assignments within the Bureau of Investigation included insurance fraud, real estate fraud, and cold-case gang homicides. He was promoted to Supervising Investigator and placed in charge of the Bureau's white-collar crime unit. As a Bureau Commander, Joseph was the Assistant Director of the Riverside County Regional Gang Task Force for more than five years. He later managed the Southwest Region Bureau office, and lastly, the Family Protection Unit before becoming the Bureau's 10th Chief.

In Riverside, the Bureau has occupied five locations. From its inception until 1972, it was located in the basement of the historic Riverside County Courthouse and then moved to the second floor of the Lewis Building on Tenth Street (now occupied by the Robert Presley Detention Center). In 1981, the Bureau moved to the second floor of the County Administrative Center and operated from there until 1991 when the Bureau moved to 4075 Main Street, directly across from the historic courthouse. By 2006, the District Attorney's Office had outgrown that location and the Bureau of Investigation was relocated to a temporary facility at 2300 Market Street. By the end of 2009, construction of the new District Attorney's Office at 3960 Orange Street was complete. In January 2010, the Bureau of Investigation moved into the District Attorney's new building, thereby reuniting investigators with the rest of the District Attorney prosecutorial team. Investigators occupy space throughout the building, with the third floor exclusively dedicated to the Bureau of Investigation.

The Bureau also has two additional divisions at 30045 Technology Dr., Suite 103, Murrieta and 82995 Highway 111, Suite 101, Indio, and also a branch office at 220 North Broadway, Blythe.

The Bureau of Investigation staff includes some of the most experienced peace officers in California. They continue to provide exceptional investigative support to the trial staff - thereby helping the District Attorney's Office prosecute both criminal and civil cases while ensuring that justice is done and the rights of all are safeguarded.
Special thanks to these law enforcement officers for contributing to this history:
Chief Investigator Paul Lewis, Ret., Riverside County District Attorney's Office
Chief Investigator Tom Evans, Ret., Riverside County District Attorney's Office
Assistant Chief Investigator Bryant Wood, Ret., Riverside County District Attorney's Office
Senior Investigator Jim Lassigne, Ret., Riverside County District Attorney's Office
Donald Archer, Former Investigator, Riverside County District Attorney's Office
Chief Deputy Sam Lowery, Ret., Riverside County Sheriff's Department
The late Joe Greer, former Chief of Police, Corona Police Department