OVERVIEW
Image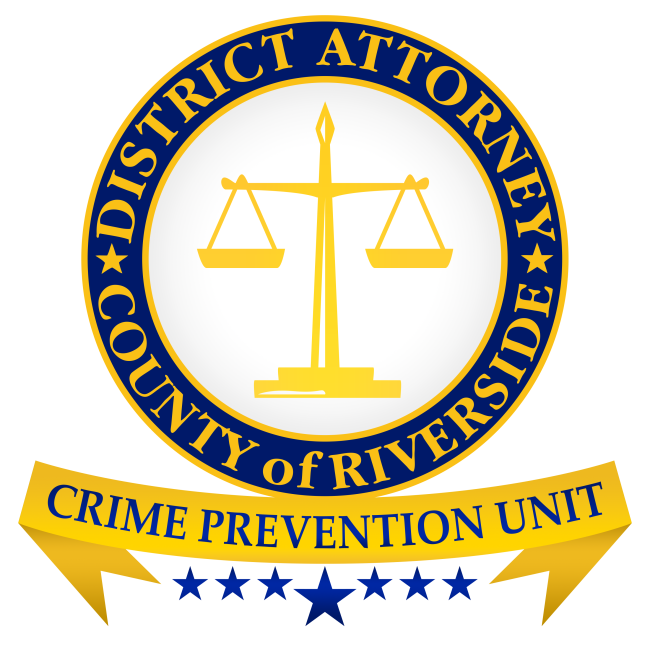 District Attorney Mike Hestrin's top priority is effective public safety for the people that live in and visit Riverside County. The DA recognizes that to successfully achieve this goal, traditional crime suppression methods must be supplemented by effective and meaningful prevention and intervention strategies. Therefore, DA Hestrin created the Crime Prevention Unit (CPU) when he took office in 2015. The CPU consists of Deputy District Attorneys and Division of Victim Services Specialists. Along with our community partner, the SAFE Family Justice Centers (SAFE FJC), we enhance public safety, help lower the recidivism rate, and prevent youth from becoming involved in the criminal justice system.
PROGRAMS
The Gang Awareness, Mentorship, and Education (GAME) program operates under the very important premise that youth gang participation is preventable and correctable. To that end, GAME provides several important gang or awareness presentations:
1) The Parent Power presentation teaches parents how to keep their children away from destructive behaviors and how to develop strong and positive relationships with their children while implementing effective and healthy discipline strategies. 
2) The Gang Awareness and Prevention presentation teaches parents why youth get involved with gangs, gang membership warning signs, and what parents need to know and do to keep their children away from gangs and illegal drugs.
3) The Gang Awareness and Prevention presentation for youth teaches junior high and high school students about the realities of gang life and the severe legal penalties associated with gang-related criminal prosecutions. During this presentation, the youth hear from former hardcore gang members that candidly and vividly relate why youth should stay clear from gang and prison life.
4) The Gang Awareness and Prevention presentation for educators is delivered to school staff and administrators and touches on a variety of gang-related topics such as gang territories, signs, clothing, paraphernalia, recent trends, and safety tips.
5) The Drug Awareness Presentation for Youth teaches students about the harmful consequences of illegal narcotics and prescription drug abuse. During this presentation, former drug abusers share their harrowing personal stories of addiction to discourage youth from the ravaging effects of substance abuse. A similar presentation is also available for parents. 
The CPU also provides free countywide Youth Empowerment and Safety (YES) presentations that directly impact youth safety and that cover a vast array of critical topics such as:  Bullying/Cyberbullying, Human Trafficking, Internet Safety, Juveniles and the Law, Hate Crimes, Domestic Violence/Healthy Relationships, and the Power of Education.
For more information about the GAME program or YES presentations, please contact us at cpu@rivcoda.org.
Our CPU closely collaborates with school districts across the county to improve the School Attendance Review Board (SARB) process and bolster student attendance. The SARB Deputy District Attorneys (DDAs) provide ongoing assistance to school districts and presentations to parents and students regarding the importance of regular school attendance. The SARB DDAs also participate in attendance meetings with parents and students to encourage truancy and absenteeism reduction and to prevent parents from being prosecuted for failure to comply with compulsory education laws.  
Partnering school districts throughout the county have shown their outstanding commitment to improving attendance and, as of 2019, 16 of Riverside County's 23 school districts have won the prestigious "Model SARB" award from the California Department of Education. For more information about the SARB program, please contact one of our Deputy District Attorneys at cpu@rivcoda.org.
Studies have identified a direct correlation between a lack of education and criminal behavior. In fact, 85 percent of juveniles involved in the juvenile justice system are functional illiterates and 70 percent of incarcerated adults cannot read above a fourth-grade level. Literacy and education are powerful tools in rehabilitation, preventing crime, and assisting youth at risk of entering the criminal justice system.
Real Men Read (RMR) and Women Read And Parlance (WRAP) are youth literacy programs operated in the county's lockdown juvenile justice facilities. Recognizing the direct correlation between illiteracy and incarceration rates, these programs were designed to create an interest in reading among its participants while also providing them with guest speakers from local schools and communities that serve as positive role models and mentors. Some past guest speakers include Riverside Mayor Rusty Bailey, best-selling authors Simone Elkeles and Nic Stone, a former NFL quarterback, and local community members from a variety of diverse economic, educational, and social backgrounds. All guest speakers focus their discussions on how literacy and education have helped them overcome obstacles and achieve goals in their private and professional lives.
With more than 1,900 participants reading more than 1.6 million pages of literature, RMR is a program proven to inspire an interest in education and literacy for a population in desperate need of their benefits.
 To volunteer or learn more about our literacy programs, please contact one of our Deputy District Attorneys at cpu@rivcoda.org.
Research shows more than 95 percent of people convicted and incarcerated for a crime will return to their home communities after they serve their sentence. Most of these individuals will need employment, housing, and other resources to prevent their recidivism and support their successful rehabilitation. In order to address these issues, District Attorney Mike Hestrin launched the RESTOAR (RESToring Opportunities After Rehabilitation) initiative in 2018.  RESTOAR's goals are to (1) assist individuals with felony records attain personal and economic stability through resource connection and gainful employment, and (2) restore opportunities to residents who have demonstrated their successful rehabilitation and reintegration into their communities. RESTOAR is a collaboration of community organizations, public agencies, educational institutions, and reentry experts who work together to reach these goals through awareness, education, and networking. RESTOAR consists of:
1. Regional RESTOAR Councils: The District Attorney's Office has established Regional RESTOAR Councils in order to promote further awareness and collaboration between organizations. These councils provide reentry service providers with the opportunity to meet on a regular basis in order to coordinate their efforts and improve service delivery. Partners from across the county can share resources, exchange job opportunities available for reentry clients, and collaborate on projects to address region-specific needs. If you are part of an organization that is interested in joining one of the RESTOAR Councils, please email restoar@rivcoda.org.
2. Educational Webinars: Research shows that permanent employment is one of the top factors in reducing recidivism. Recognizing that one of the largest barriers to gainful long-term employment is a criminal record, the DA's Office has created educational presentations for individuals with criminal records, organizations that work with them, and the general public.  The following presentations are offered virtually on a monthly basis to the public. Individual presentations for community organizations' staffs and clients are also available upon request.
"The Fair Chance Act for Job Applicants" webinar – Many individuals with criminal records are unaware that statewide Ban the Box laws can improve their ability to obtain and maintain a job. In order to maximize employment opportunities, webinar attendees will find out how the Fair Chance Act limits employers' use of criminal records in hiring decisions.
"Court Relief for Criminal Records" webinar – Individuals with criminal histories may be able to reduce the impact of prior convictions by applying for court relief. Attendees of this webinar will find out how reductions of charges, expungements, and certificates of rehabilitation may increase their opportunities for employment and job licensing.  They will learn the criteria to qualify, how to apply if eligible, and how to get connected to local community resources. Also, a lawyer from the Inland Empire Latino Lawyers Association will provide information regarding its free legal services to assist eligible individuals in obtaining court relief.  
3. RESTOAR Countywide Resource Guide: The RESTOAR Countywide Resource Guide (RCRG) was created for the specific purpose of connecting individuals with criminal records to many of the resources typically used by those who are successful in attaining rehabilitation and court relief. 
Please click here for the current RCRG. If you are an organization that has a valuable reentry resource to be added to this guide, please email restoar@rivcoda.org.
Contact Information
To find out more information about any RESTOAR project, please contact us at (951) 304-5088 or email restoar@rivcoda.org.
 
SAFE Family Justice Center (SAFE FJC) is a non-profit community-based organization established in 1998 and specializes in providing domestic violence and at-risk youth prevention and intervention services to the community.  In addition, SAFE FJC provides services from four regional locations within the County of Riverside. The centers are in the cities of Riverside, Indio, Murrieta, and Temecula. SAFE FJC uses a multidisciplinary response framework that provides "one-stop shop" services to youth and adults from both government and community-based partner agencies who work under one roof to support the complex needs of at-risk youth and victims of abuse. Services provided in the centers are trauma informed, client led, confidential, and limit the number of times that individuals must re-tell their story, ultimately creating a safe space for youth and family members to address the underlying causes of truancy and delinquent behavior.
Learn more about SAFE Family Justice Center programs here: https://safefjc.org/