Focusing Light on the Dark Silence of Sexual Assault
April 21, 2022
Thursday, April 21, 2022
Focusing Light on the Dark Silence of Sexual Assault
Most often, it happens in the vast and frightening darkness of silence.
And far too often, it's that dark silence that can keep those who have been sexually assaulted from getting the care and justice they deserve as survivors.
Most sexual assaults happen within the family unit, or the perpetrator is someone who was trusted by the victim. It is that connection of "trust" or family that the perpetrator relies on for the victim to also stay silent.
April is Sexual Assault Awareness Month, and we want to bring awareness to the importance of survivors talking about or reporting these crimes and how the Riverside County District Attorney's Office handles them.
Not Just Another Statistic
"We don't look at our victims as another statistic. We never lose sight of the fact that each case translates to a person and or a family in pain, and we will do everything in our power to make them feel heard," said Victim Services Supervisor Alexa Teague of our Division of Victim Services (DVS).
Teague has been with DVS since 2019 after serving several years as a volunteer and advocate at the Riverside Area Rape Crisis Center.
Sexual assault of all types "is an incredibly underreported crime," Teague said. "A lot of people keep it inside and don't ever talk about it. It then manifests in their lives."
"It doesn't matter who you talk to about it, but tell someone, talk to someone," she adds. "We need to be cultivating a society where it is OK to talk about these things."
Most sexual assault survivors "really don't know how to move forward. They have no idea how to go forward in relationships," Teague said.
But when they talk to someone and/or report it to authorities, that can be the first step to healing.
"They get to tell their story and they are no longer a victim but are surviving," Teague said. "They take their voice back and we make sure they are heard."
Victim Services Specialists in the DA's Division of Victim Services are there to ensure just that and help survivors get counseling and any other help they may need.
"It is about normalizing the way they are feeling about their experience," Teague says. "If they know that most cases are like theirs, then they can realize they aren't crazy for feeling the way they do. We try to help them realize they are not alone."
'Listen to them. A child is telling you this for a reason'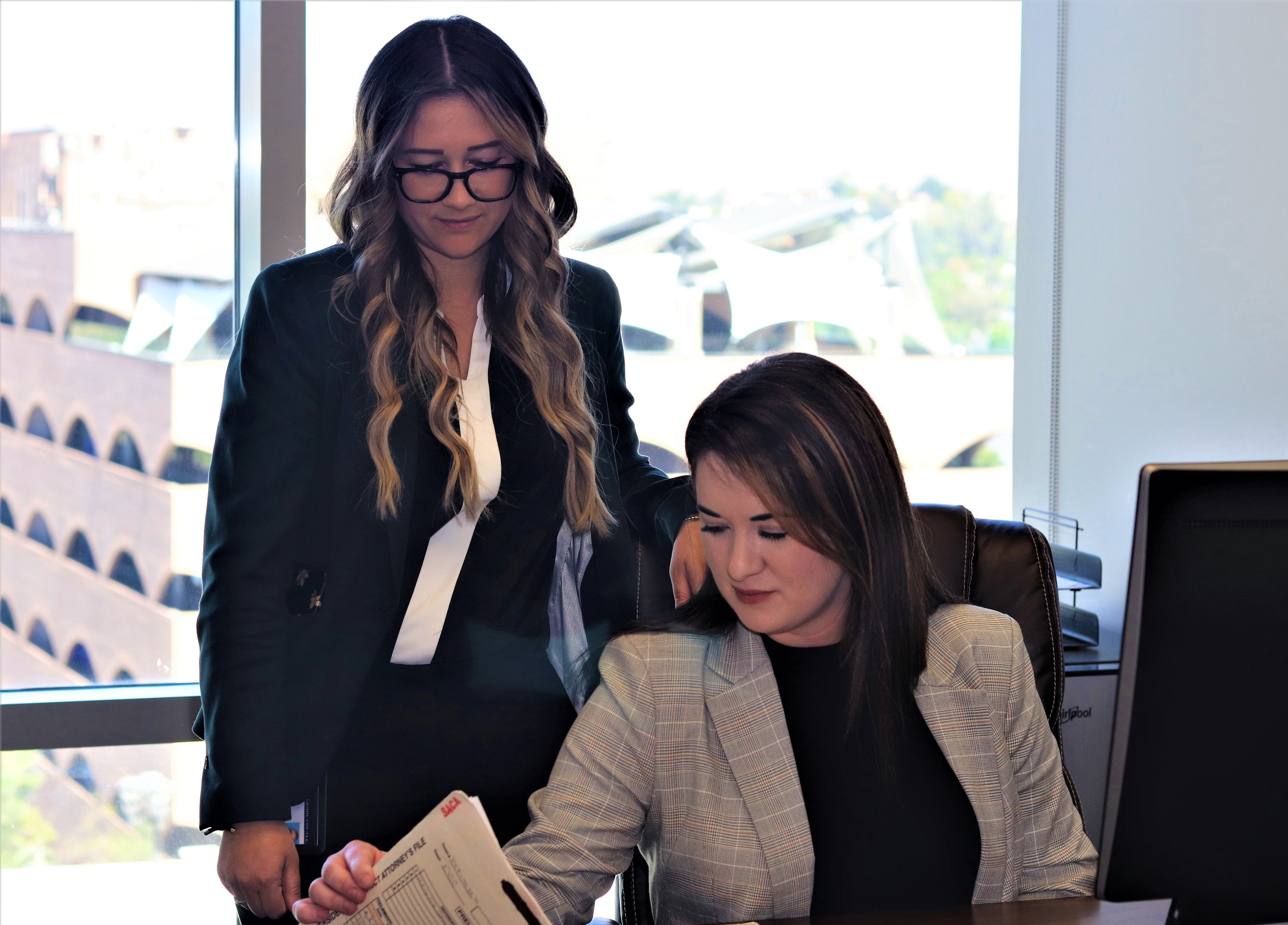 It isn't just the Victim Services Specialists who work closely with those who have been sexually assaulted.
The unit that investigates and prosecutes sexual assault cases at the DA's Office is the Sexual Assault and Child Abuse Unit, or SACA.
The office has what are called Integrated Trial Teams which, as the name suggests, integrates various parts into one singular team. Those parts include DA investigators – who are sworn law enforcement officers with years of experience, Victim Services Specialists, and the Deputy District Attorneys who file and prosecute cases.
Everyone in those teams works together to help those who have become victims of crime.
One of the DA's SACA prosecutors is Sara Beller, who works alongside Victim Services Supervisor Alexa Teague on sexual assault cases.
Beller has been a prosecutor for five years and in the SACA Unit since February 2021.
She was a victim of sexual abuse when she was younger. "That's why I became a prosecutor and why I am in SACA now."
As a SACA prosecutor, Beller reviews cases for possible charges that are submitted to the DA's Office from law enforcement agencies for sex-related crimes involving adults or children as victims.
"These aren't just files on our desks. Each case is important," Beller said. And all those – adult or children – who say they have been sexually assaulted are believed.
"All of us (in the SACA Unit) start from a point of 'We believe you'," she said, adding that what follows is how the crime can be proven to a jury.
One thing Beller wants sexual assault victims to know is: "We aren't looking for a reason to not believe you. You don't ever have to have that concern here."
Some of the most heart-wrenching cases of sexual assault are when children are victimized.
Beller said child victims are 80 percent more likely to never disclose when they are sexually assaulted, especially when by a family member or trusted adult.
If a child does decide to tell someone what happened to them, Beller said, they typically will "dip their feet", testing the water, to see what sort of response they get back from an adult.
"Listen to them," the prosecutor said sternly. "A child is telling you this for a reason."
"Think how difficult it is for them to do this in the first place. The fact they are being brave enough to tell you probably means there is more to it than even what they first told you," Beller said.
Getting the case from arrest to trial
Once a sexual assault case is filed, another integral part of that Integrated Trial Team becomes thoroughly involved – the investigator.
DA Sr. Investigator Bertram Blinn is one of those assigned to the SACA Unit. He started his law enforcement career in 2000 as a probation officer, going to the Riverside County Sheriff's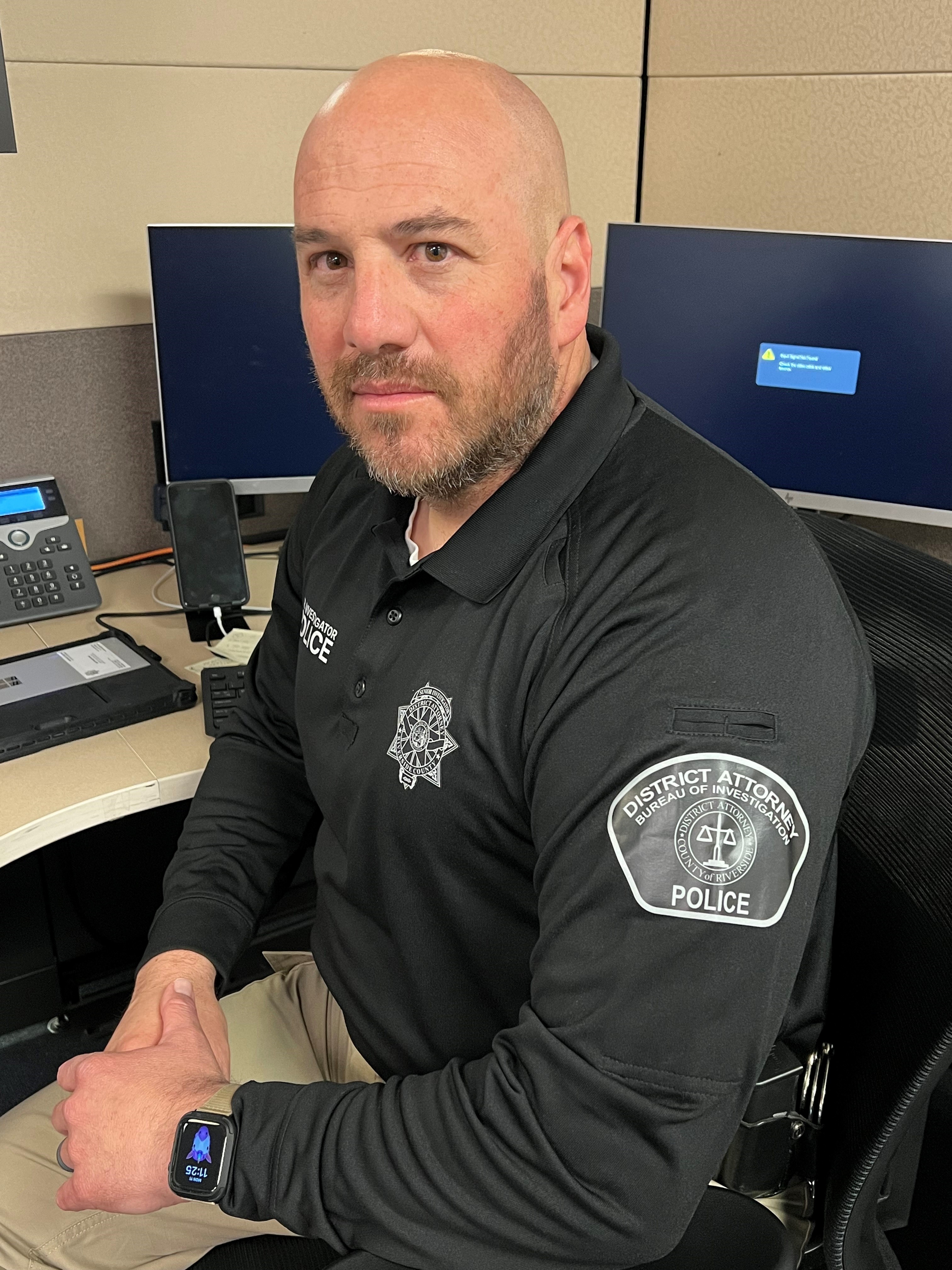 Department seven years later before becoming a sheriff's investigator in 2013. He has been with the DA's Bureau of Investigation since October 2021.
One of the responsibilities of DA investigators is to solidify a case for potential trial. There can often be a difference between the evidence needed for a probable cause arrest by the initial investigating agency and the evidence needed to prove a case beyond a reasonable doubt at a trial.
So Blinn digs deep into the SACA cases assigned to him – getting to know the case inside and out -- which can include studying the details of crime reports, watching videos of interviews, obtaining search warrants for medical records and/or DNA, and diving into the past of the charged defendant.
"I get to see these cases from the beginning to the end," Blinn said. He values the professionalism, confidence, and knowledge of the SACA Unit.
Blinn reiterates that whether it is the sexual assault of a child, the rape of an adult, or any sexual assault, these crimes are almost always done in secret and rarely involve a stranger.
"Sadly, victims in these types of cases often are related to the suspect, either by blood or brought into the family," Blinn said.
And what can make these cases more difficult, Blinn said, is that because sexual assaults are most often done in secret, there typically there are no witnesses other than the victim.
'You are losing evidence the longer you wait'
That is why the collection of forensic evidence can be the critical key in sexual assault cases.
Yvonne Bennett has been in the nursing field for 25 years and also earned her Juris Doctor law degree from Whittier Law School. She has been a forensic nurse since 2007 and is the program manager of the Sexual Assault and Forensic Evaluation (SAFE) clinic at the Riverside University Health System (RUHS) Medical Center in Moreno Valley.
"The sooner (a victim) comes in the better in order to preserve evidence the best way possible," Bennett said. "You are losing evidence the longer you wait."
SAFE is available 24/7 for forensic examinations and evidence collection in sexual assault cases. Bennett supervises six fulltime nurses and five per diem nurses, all of whom collect evidence, prepare reports that can be 10-15 pages long, and can be called to testify in court either as witnesses or experts.
In 2021, SAFE offered forensic exams to 312 sexual assault victims – both adult and adolescents. Bennett said about 92 percent of those seen were female. SAFE provides exams and services to victims ages 12 or older. If a sexual assault victim is under 12, they are seen by the Riverside County Child Assessment Team.
Bennett said there are two ways victims access their services. Typically, it is a victim who has first reported a crime to law enforcement. "About 98 percent do report (to law enforcement) prior to the exam," she said.
Victims can also come to the hospital and request an exam. "Patients are entitled to an exam even if they don't want to make a police report," Bennett said. That still preserves evidence if the patient does decide to report it.
The exam is a "head to toe exam," she said, and the patient can decline any aspect of the exam if they don't want that part done.
"Our services are free to the patient. The exam, any labs, any meds, are all free," Bennett said. If the patient needs to be seen in the emergency room due to injuries, they may get a bill, she adds.
Something else Bennett wants sexual assault victims to know is that those between the ages of 12 and 17 don't need parental permission for these exams.
"Most of the time, parents know and are either with (the juvenile) or drop them off," she said.
Donated new bras badly needed for sexual assault victims
No matter if the sexual assault victim is an adult or an adolescent, female victims often need to leave their undergarments as part of the collection of evidence.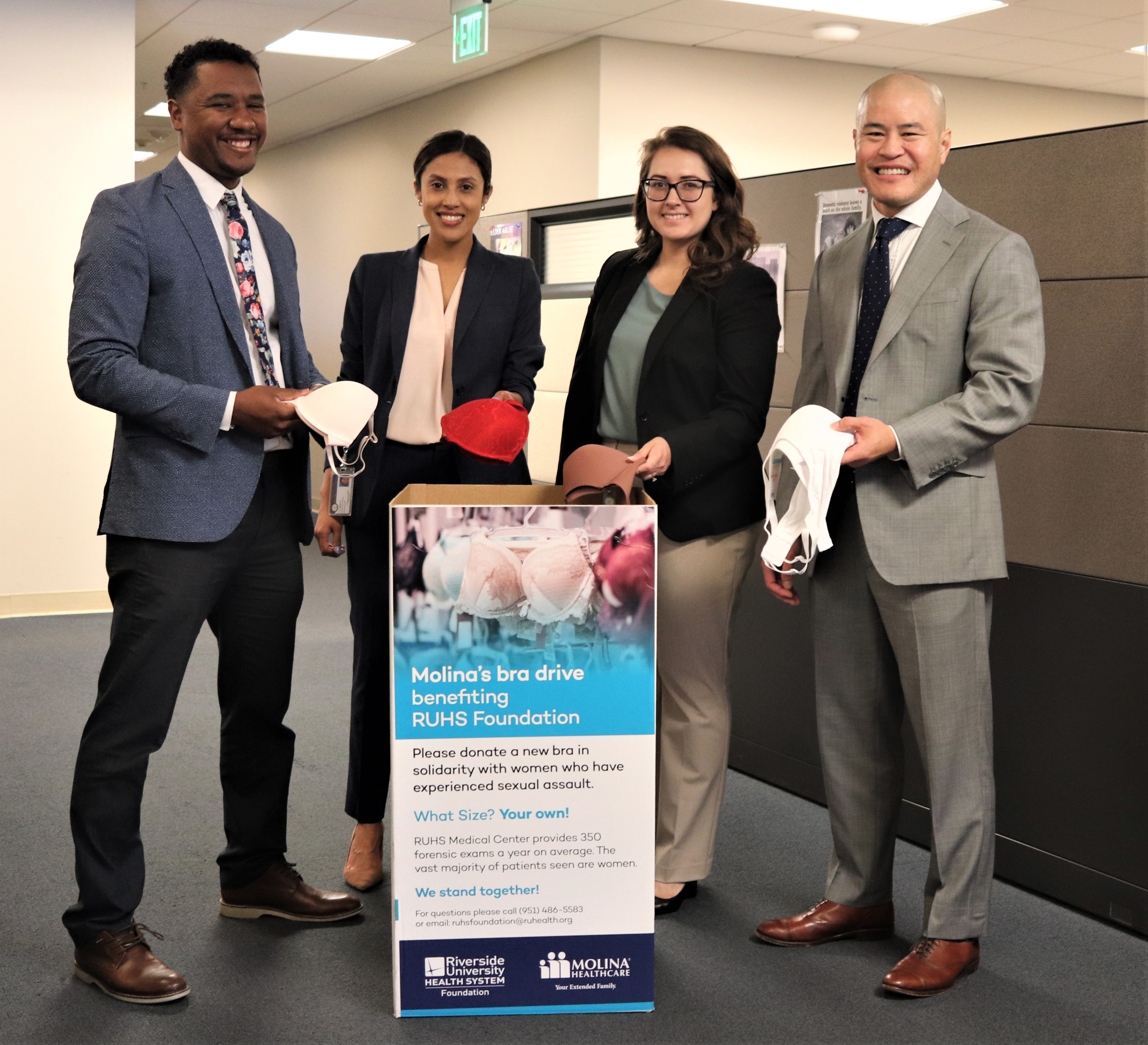 That's why the DA's Division of Victim Services and SAFE Family Justice Centers countywide are collaborating with Molina Healthcare to benefit the Riverside University Health System Foundation in a bra drive.
The new donated bras collected during the bra drive can then be provided to sexual assault victims when they have theirs collected as evidence.
If you would like to donate, new bras of all sizes can be dropped off or mailed to the following locations:
DA's Banning Office: 135 N. Alessandro St., Banning, 92220
DA's Riverside Office: 3960 Orange St., Riverside, 92501
DA's Indio Office: 82-995 Highway 111, Suite 101, Indio, 92201
DA's Murrieta Office: 30755-D Auld Road, Murrieta, 92563
SAFE Family Justice Centers at the following locations:
3900 Orange St., Riverside, 92501
82-995 Highway 111, Suite 103, Indio, 92201
30045 Technology Drive, Suite 101, Murrieta, 92563
28910 Pujol St., Temecula, 92590