Fugitive sought for 2018 murder and attempted murder in Banning caught in Mexico
April 15, 2021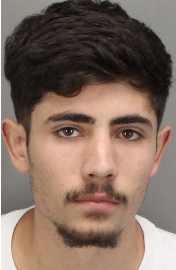 15
Apr
2021
Fugitive sought for 2018 murder and attempted murder in Banning caught in Mexico
RIVERSIDE – A Banning man wanted for a 2018 murder and attempted murder in that city has been captured in Mexico and returned to the United States to be prosecuted by the Riverside County DA's Office.
Brody Joseph Baca, DOB: 9-24-98, was arrested on April 14, 2021, in Puerto Penasco, Sonora, Mexico without incident. He was transported to and booked at the Santa Cruz Detention Center in Nogales, Arizona, where he awaits extradition to Riverside County.
The Riverside County Gang Impact Team, which is led by the DA's Bureau of Investigation and is also a United States Marshals Service Pacific Regional Fugitive Task Force, worked with Banning police detectives, the U.S. Marshal's Mexican International Liaison Unit in Arizona, and Mexican authorities to locate and capture the wanted fugitive.
Baca was charged by the DA's Office in January 2019 in case BAF1900013 with one count each of murder, attempted murder, and convicted felon in possession of a firearm.
The murder and attempted murder happened on Dec. 28, 2018, at the 4 Brothers liquor store on East Ramsey Street in Banning. Police responding to a 911 call about a shooting found two men who had been shot. One of the men, Alex Marcotte, was pronounced dead at a nearby hospital just after midnight the next morning. The second man was initially in critical condition and survived his injuries.
Banning police detectives determined that Baca was a suspect in the shooting. A warrant was issued for Baca's arrest on Jan. 7, 2019, but he fled to Mexico before detectives were able to locate him.
The Gang Impact Team is supervised by the Riverside County District Attorney's Office Bureau of Investigation and staffed by law enforcement officers from the DA's Bureau of Investigation, Homeland Security Investigations, U.S. Marshal's Service, California Department of Corrections and Rehabilitations Special Services Unit, the Riverside County Sheriff's Department, and detectives from the Banning, Beaumont, Cathedral City, Corona, Desert Hot Springs, Hemet, Palm Springs, and Riverside Police Departments.
# # #