MASSIVE WORKERS' COMPENSATION FRAUD CASE
January 23, 2019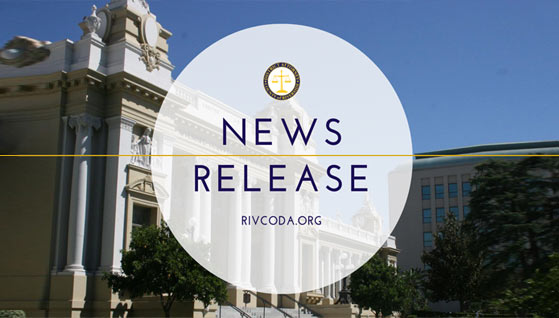 LEADS TO GRAND JURY INDICTMENTS
RIVERSIDE – A Riverside County judge has unsealed indictments against eight people accused of operating an international conspiracy to defraud the California workers' compensation system of more than $123 million.  
In March 2017, the Riverside and San Bernardino County District Attorney's Offices began an investigation into Blue Oak Medical Group. The evidence was presented to a Riverside County criminal grand jury which, after hearing six weeks of testimony, handed down indictments on Jan. 17, 2019.  

The indictments were unsealed on Jan. 22, 2019, by Judge O.G. Magno in Dept. 41 at the Hall of Justice in Riverside. 

Indicted in the case are: Kenneth Amodeo, DOB: 2-4-59, of Agoura Hills; Rosa Bernal, DOB: 4-14-71, of Covina; Shannon Devane, DOB: 4-24-77, of Downey; Janek Hunt, DOB: 9-25-74, of Estonia; Edgar Lozano, DOB: 11-21-66, of Porter Ranch; Matthew Rifat, DOB: 10-16-69, of El Cajon; Hector Sandoval, DOB: 9-22-64, of Sherman Oaks; and Munir Uwaydah, DOB: 4-1-66, of Lebanon. 

Amodeo is a pharmacist, Rifat is an attorney, and Uwaydah is a physician whose license currently is not active. Uwaydah has been under indictment in Los Angeles County in a related case since 2015. 

The next court date for Amodeo, Bernal, and Lozano is Feb. 6, 2019, for arraignment and the next court date for Devane, Hunt, and Rifat, is Feb. 26, 2019, for a trial readiness conference. Defendants Sandoval and Uwaydah are not in custody and arrest warrants have been issued. 

The eight defendants in this case are charged with a variety of counts including conspiracy, fraud, and money laundering. 

Based on information found in publically filed documents, the defendants used the sham clinics to take advantage of thousands of patients by prescribing nearly all of them the same high priced cocktail of unnecessary medications, regardless of the patients' condition. Many of the medications were produced by pharmacies under the control of the defendants and the patients often received little, if any, of the medicine they were prescribed. The defendants funneled the fraudulently obtained proceeds from the scam through a network of shell companies, ultimately sending the money to co-conspirators throughout Southern California, Europe, and the Middle East.
  
The investigation in this case involved multiple agencies including the Riverside County District Attorney's Office, the San Bernardino County District Attorney's Office, the Orange County District Attorney's Office, and the California Pharmacy Board. 

The cases, RIF1990022 and RIF1990023, are being prosecuted by Riverside County Deputy District Attorneys Matthew Murray, Erika Mulhere, and Kristen Allison of the DA's Insurance Fraud Team, and San Bernardino County Deputy District Attorney Michael Chiriatti.