On National Intern Day, get to know one of our college interns – Isaiah Banuelos
July 27, 2022

Isaiah Banuelos says he was kind of "tricked" into joining the mock trial team at his high school just a few years ago. Little did he know at the time, but that little twist of fate now has completely changed his life.
While a freshman at Patriot High School in the Jurupa Valley in Riverside County, Isaiah told someone he was interested in debate and speech. It was suggested that he might want to check out the school's mock trial team, so he did.
It was there that he met Riverside County Deputy District Attorneys Tim Brown and Cathryn Heinen, who were attorney-coaches for the team. Tim and Cathryn saw something special in Isaiah and Tim encouraged him to let him know when he was a college undergraduate student so he could apply for the DA's College Academy.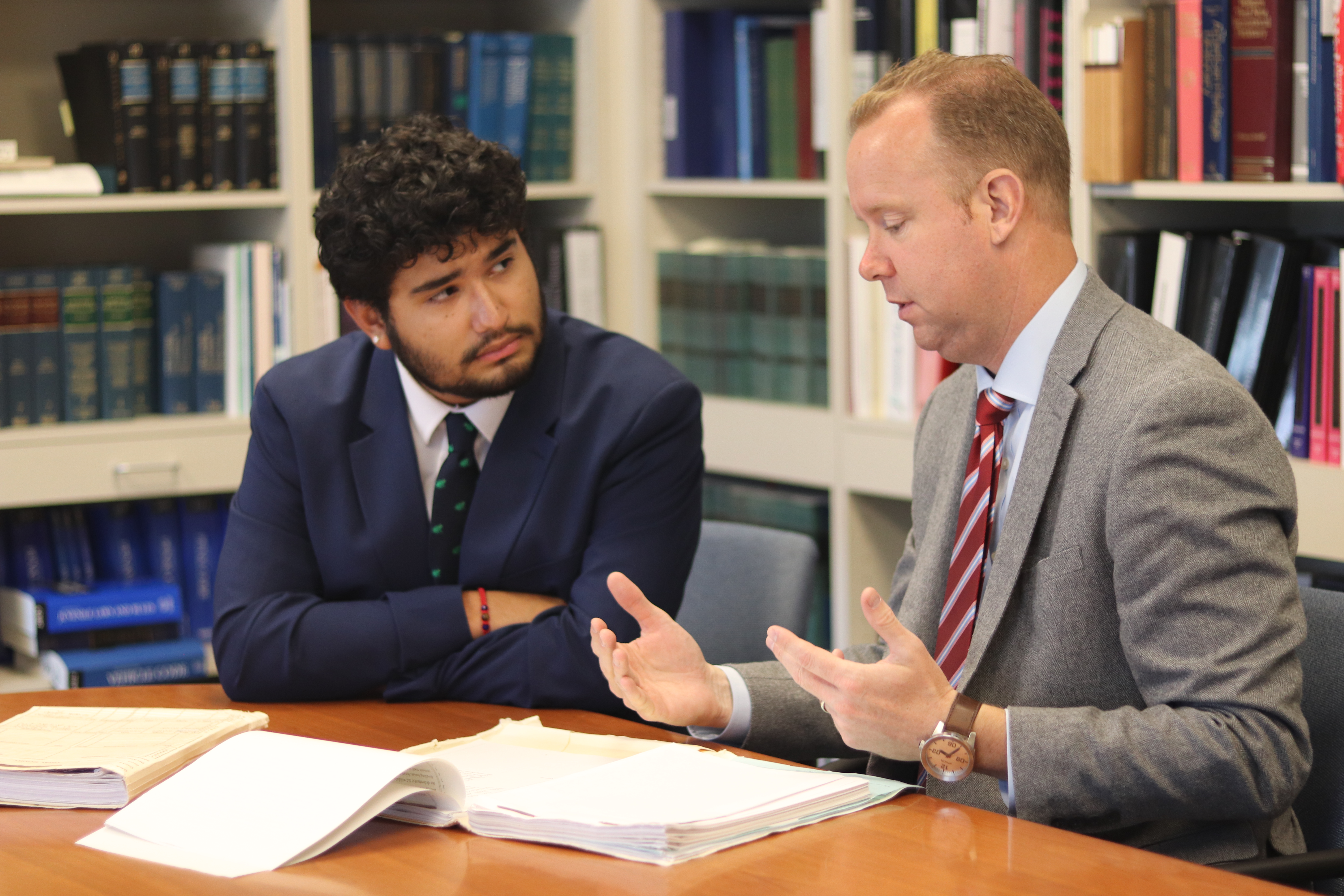 "My goal is to help him get to where he wants to go," Tim said.
Now, as an undergraduate student at Dickinson College in Pennsylvania, Isaiah was able to apply for the 2022 College Academy. He was accepted and is now in the DA's Office as an intern being mentored by – yes, you guessed it – DDA Tim Brown.
"I was excited when I heard he was accepted," Tim said. "I have been able to watch him grow into a 'junior lawyer', so to speak."
The DA's College Academy is an eight-week program during which undergraduate students spend at least eight weeks in our office, the first four in classroom and field trip training, then finish by being mentored by a staff member. That mentor can be a prosecutor, a DA investigator, a victim services specialist, or other employee depending on what path the student intern is interested in taking as a career.
Isaiah says his time in the academy has certainly reinforced his desire to become an attorney.
"This is what I want to do," he said. One of the aspects of the College Academy is learning all about the criminal justice system, including frontline law enforcement and both prosecution and defense in the courtroom.
"I know I want to go into criminal law," Isaiah said. "I'm just not sure if that will be prosecution or defense.
"I'm still trying to decide which direction to go. But being in this program, I think I'm leaning toward the prosecution," he said with a laugh while glancing at his mentor.
Isaiah said he hopes he can serve as an example for others who may see what he has been able to achieve.
"I hope I can pay it forward and be an inspiration to other young people," he said.
That attitude and desire is exactly what internship programs like the College Academy are all about, Tim said.
"Seeing and helping to develop young talent in our community is so important," the veteran prosecutor said. "We get a front row seat to see the talented youth develop in our community."
Whether it is a program such as the DA's College Academy or others that provide a beneficial internship opportunity, anyone who has the chance to participate in one should take advantage of that.
"It is a great opportunity to expand your horizons as a young professional to see what works for you and also what doesn't," Tim said.
Isaiah agrees, adding: "Internships are a chance for you to make sure you aren't committing to something long term and then end up finding it is something you don't really want to do."
And the advice Isaiah has for anyone who takes part in an internship?
"Be a sponge. Take in all the information you learn and don't be afraid to ask questions. Have an open mind. You may have a point of view about something but then get to actually see another side to that."
-------------------------------------------------------------------------------------------
If you or someone you know may be interested in participating in the next College Academy summer internship program, please contact DA Information Specialist Jayli Barkley at JayliBarkley@rivcoda.org.