Our Victims' Memorial Wall -- A Place of Reflection and Remembrance
April 30, 2021
Like so many others who have lost someone they love to violent crime, Jacqueline Creeach never got the chance to tell her mother or her aunt goodbye or that she loved them before they died.
As she stood near where their names are now forever etched on our Victims' Memorial Wall, Jacqueline paused. "It's weird to think I'm bonded with so many strangers now because of this," she said.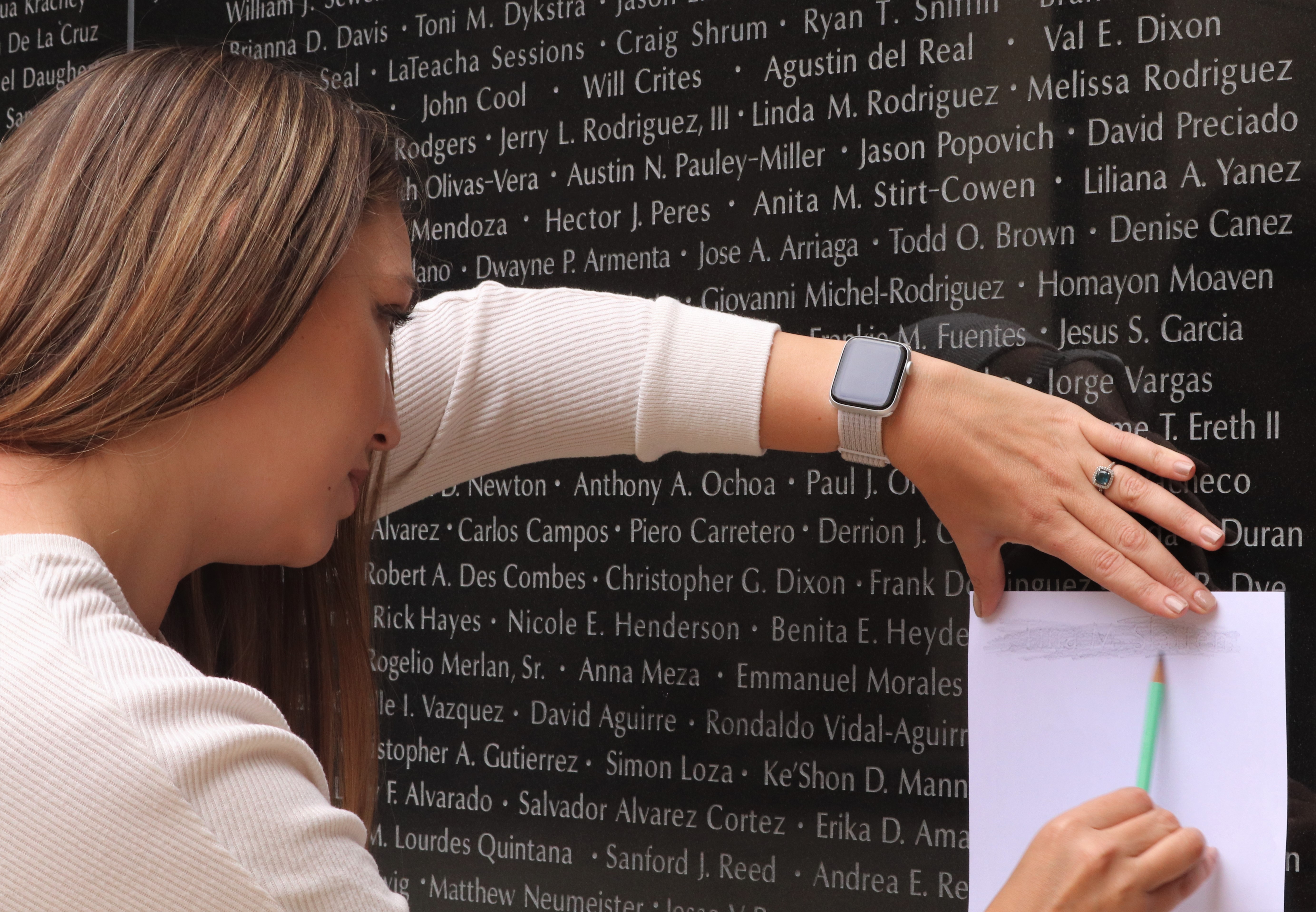 The names of her mother, Tina Slatten, and her aunt, Benita Heyden, are among the nearly 2,800 names engraved on the black marble wall in the Victims' Memorial Courtyard outside our downtown Riverside office. The two women were killed in January 2020 by a suspected DUI driver.
"They were so much more than sisters; they were best friends," Jacqueline said. "It's hard to put into words. They were just perfect sisters. They were the rocks in many peoples' lives."
National Crime Victims' Rights Week was April 18-24, and our office was unable to hold our annual candlelight vigils honoring and remembering crime victims because of COVID-19 restrictions. Our Division of Victim Services, however, set up appointments with those wishing to come to the Memorial Wall to see the name of someone they lost.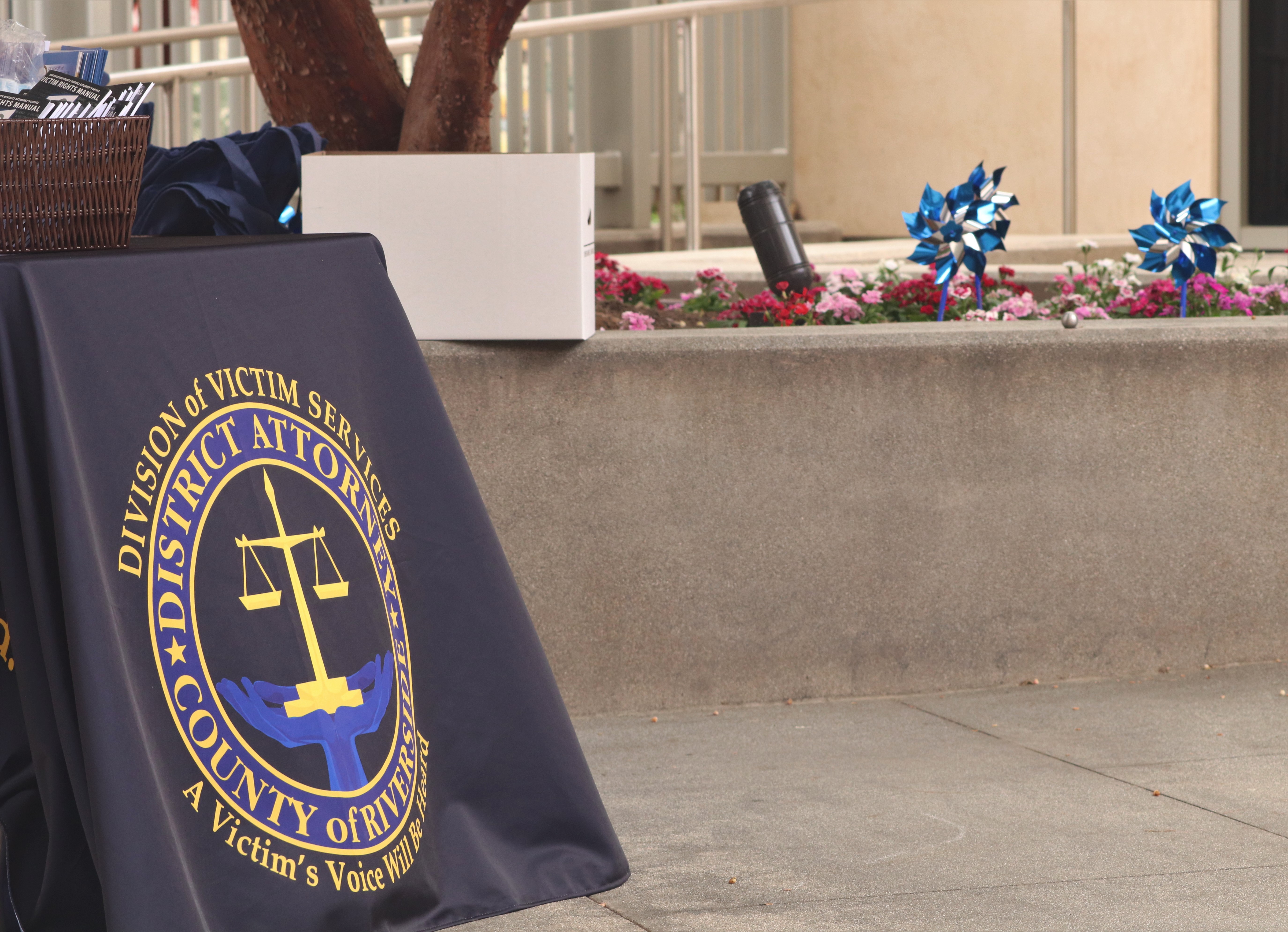 Many who visited over Victims' Right Week, including Jacqueline, were seeing the wall and their loved one's name on it for the first time. Visitors also had the opportunity to make an etching on paper of their loved one's name.
"This is a wonderful thing and gives everyone who lost someone a place to go," Jacqueline said. "It lets me know I'm not alone in all of this."
That was one of the intentions of the Victims' Memorial Wall when it was first unveiled during a candlelight vigil in April 2009. The names on the wall date back as far as our office could find. Each year during Victims' Rights Week, we unfortunately have many more new names to add to the marble memorial.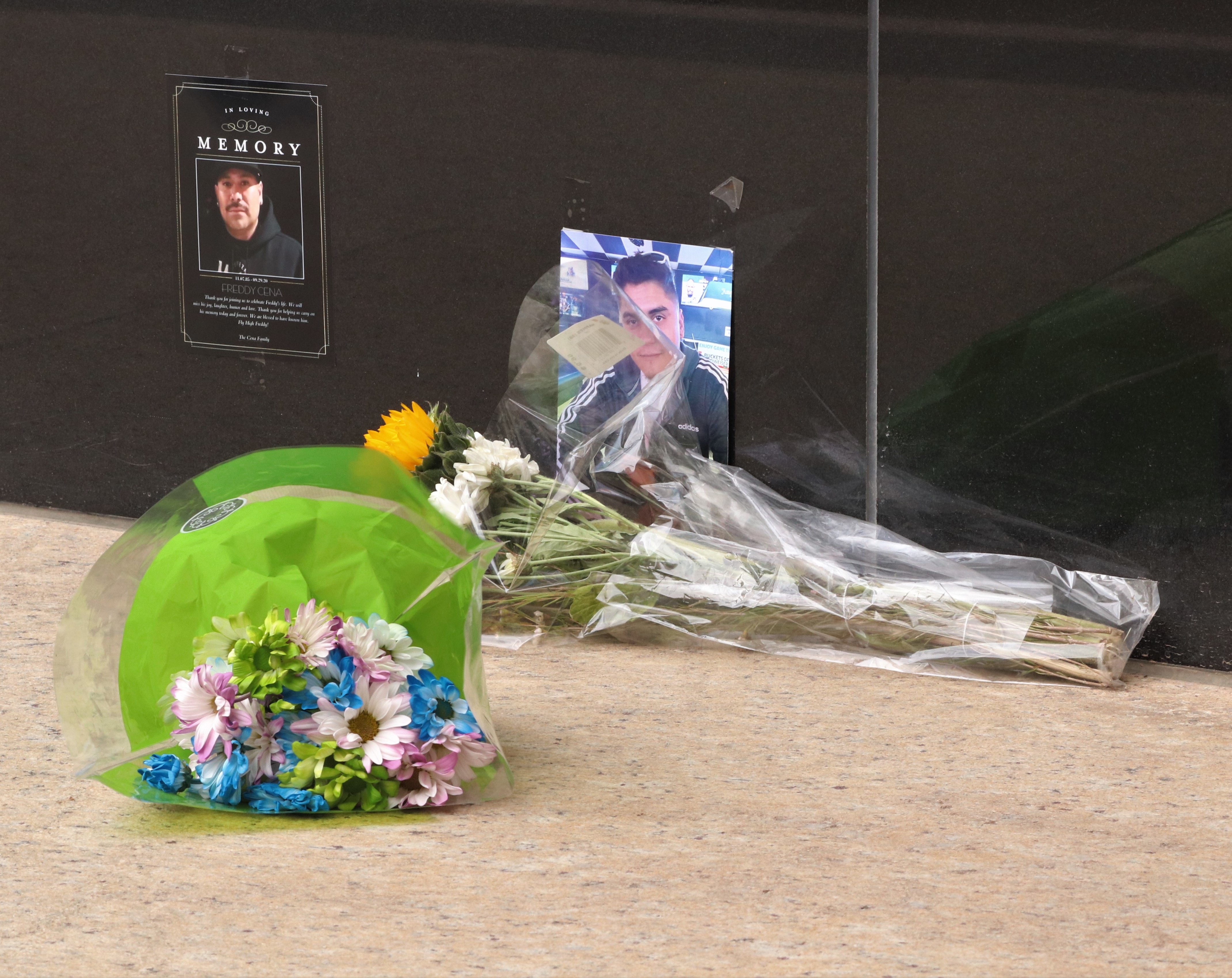 "The Memorial Wall forms a powerful and unforgettable memorial to all those who lost their lives to crime," said Melissa Donaldson, director of our Division of Victim Services. "It is important to us to be able to provide families a place to see their loved one's names, which we hope provides some solace.
"All those names represent husbands, wives, sons, daughters, mothers, fathers, and brothers and sisters, which reminds us here at the DA's Office that we can never tire or waiver in our fight for justice," Donaldson added.
Sadly, some of the many crime victims on the wall are children, toddlers, or even babies.
One of those very young victims is the 1-year-old daughter of Ashley Grome. Her daughter, Madalyn, was a murder victim in 2020. Ashley also visited the wall for the first time over this year's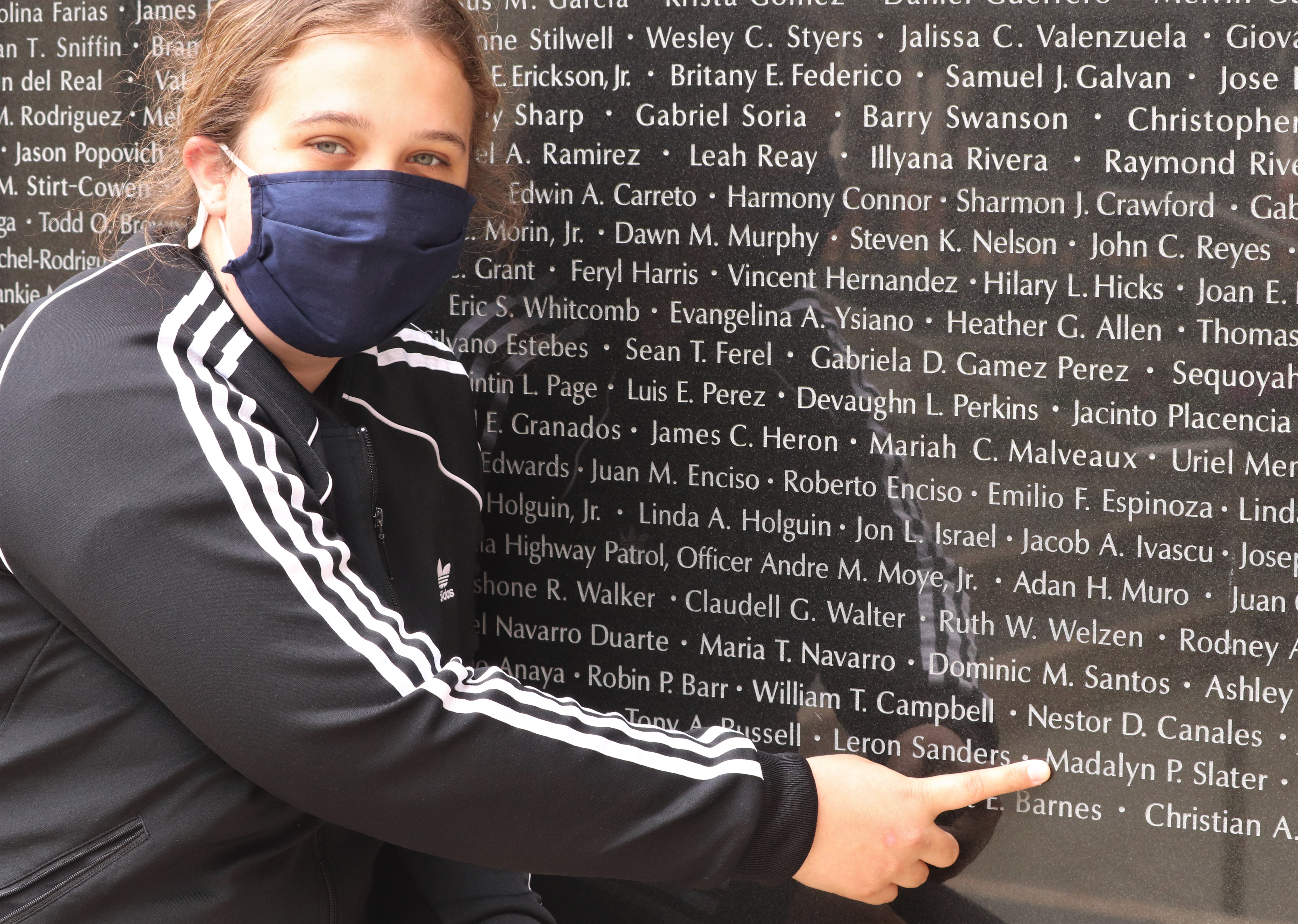 Victims' Rights Week.
"This gives me somewhat of a closure," said Ashley, who came to the wall with several family members. "It gives me somewhere else to go other than the cemetery."
"Her name on this wall means her memory is everywhere, not just in the Coachella Valley where we are from," she added.
Jim Palmer was also a first-time visitor to the wall. He came to see the name of his wife, Sandra, a victim of a 2017 murder.
"I'm just honored that the DA's Office recognizes the value of a victim's life and put her name on this wall," Jim said.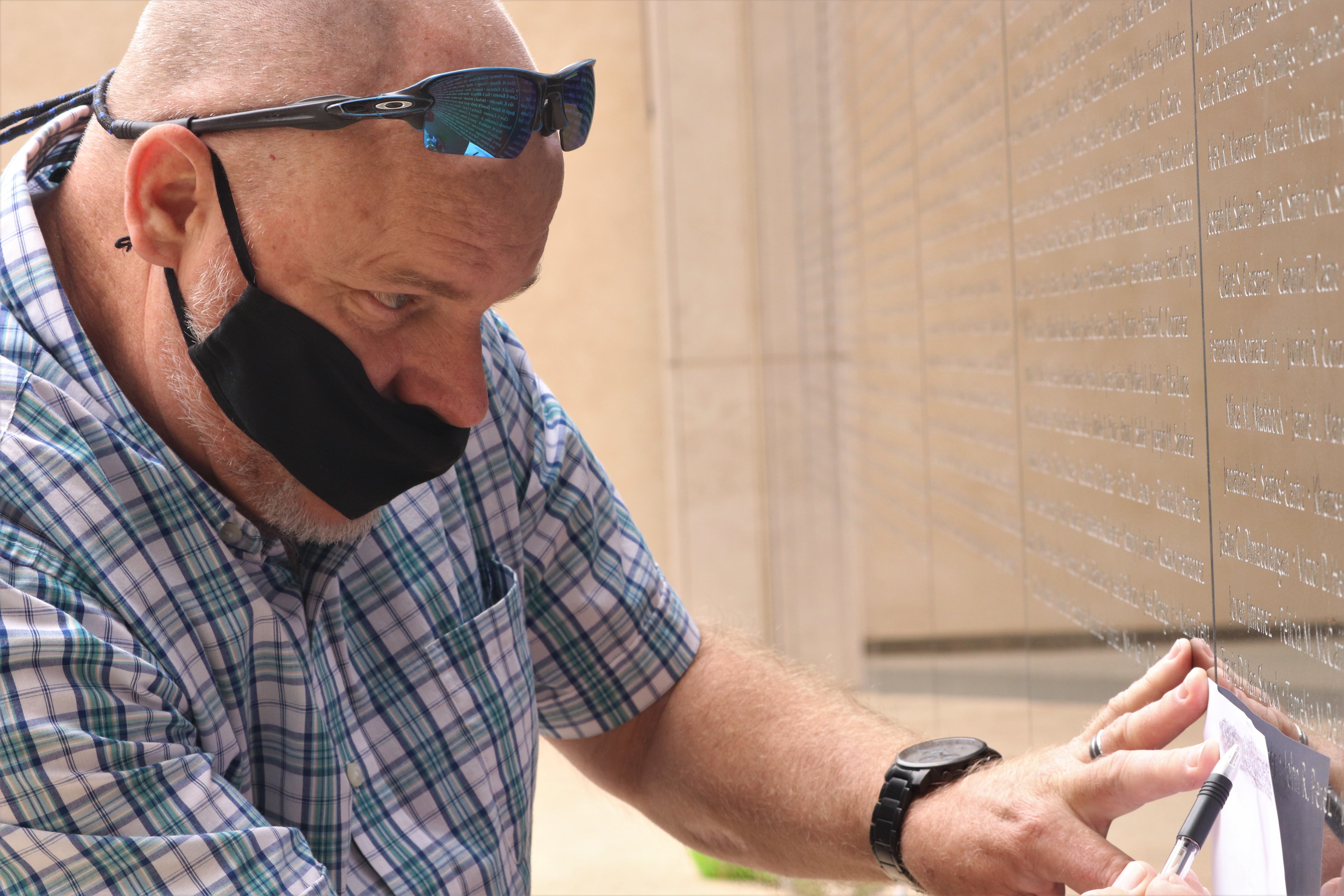 Looking at the name of his wife of nearly 23 years on the wall as a friend stood next to him to lend support, Jim took a moment to gather his composure and his thoughts.
"It just pulls on my heart."
________________________________________________________________________
To learn more about our Victims' Memorial Wall, go to: https://rivcoda.org/victim-services/victims-memorial-wall
If you are a loved one of a victim and want to visit the wall or possibly have a name added, please call our Division of Victim Services at (951) 955-5450.