Women's History Month -- Meet Natasha Crawford, the first female assistant chief in our Bureau's 75-year history
March 24, 2022

Natasha Crawford's plan was to become an attorney. She had already started applying to various law schools.
Then in 2001, she went on a ride-along with the Redlands Police Department. The rest, literally, is history.
In November 2021, Natasha became the first female Assistant Chief in the 75-year history of the Riverside County District Attorney's Bureau of Investigation. We want to recognize Natasha's significant achievement as we celebrate Women's History Month. This is her story.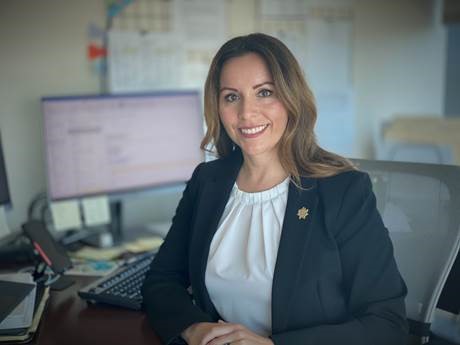 "It almost seems surreal to me; being the first female Assistant Chief of the Bureau," Natasha said.
Her initial career path certainly wasn't headed in that direction.
Natasha was born and raised in Riverside – the oldest of six girls. She was the first in her family to go to college. While in college at the University of Redlands, her goal was to go the law school and become an attorney.
At the time, she was working as an intern doing clerical work at the Redlands Police Department. One day while at the station helping with a Spanish translation, then-Redlands Police Chief Jim Bueermann asked her if she ever thought about becoming a police officer. She had not. He suggested she go on a ride-a-long with an officer to just check it out. Natasha took him up on it.
"I loved it," she says with a smile. Natasha describes herself at the time being "a poor college student" who understood her path to law school would mean more debt.
So, Natasha quickly diverted from the track to being a lawyer and veered onto a new law enforcement track. "I stopped all my law school applications," she said. "It was the best decision of my life."
She graduated from the University of Redlands in May 2001 and two months later was starting the police academy, sponsored by the Redlands Police Department.
Hired by Redlands PD out of the academy, Natasha spent 14 years there, loving her new chosen career working patrol, community policing, and as a detective.
In January 2016, she was hired by the Riverside County District Attorney's Office Bureau of Investigation. She sees that as "coming full circle" since, while she never went to law school, she was able to work closely with attorneys as a DA Investigator.
Natasha earned her way to several promotions including Bureau Commander almost exactly two years ago and now as an Assistant Chief. Among her many responsibilities are overseeing the various Bureau task forces as well as the Bureau's Eastern, Southwest, and Mid-County Offices.
"I always hoped that I could be in a position to really help others and now I am," she said. "And it means a lot to me to be able to represent Hispanic females in a position like this."
When she interviewed for the Assistant Chief opening, she recalls Chief of Investigators Joe DelGiudice asking her why she wanted the opportunity.
"I remember telling him that, growing up here, I really care about this community, and I care about what our office does to take great care of crime victims," she said.
Chief DelGiudice has this to say about the new assistant chief: "Natasha is an exceptionally talented and intelligent investigator. She rose through the ranks quickly because of her abilities, which was no small feat given the caliber of her coworkers. I am thrilled to have her as an assistant chief."
Women in law enforcement can often encounter significant obstacles in their careers.
"I've had a lot more supporters that detractors in my career," Natasha said, adding that the only obstacle she's had was having to show others that she is more than capable of doing the job and doing it well.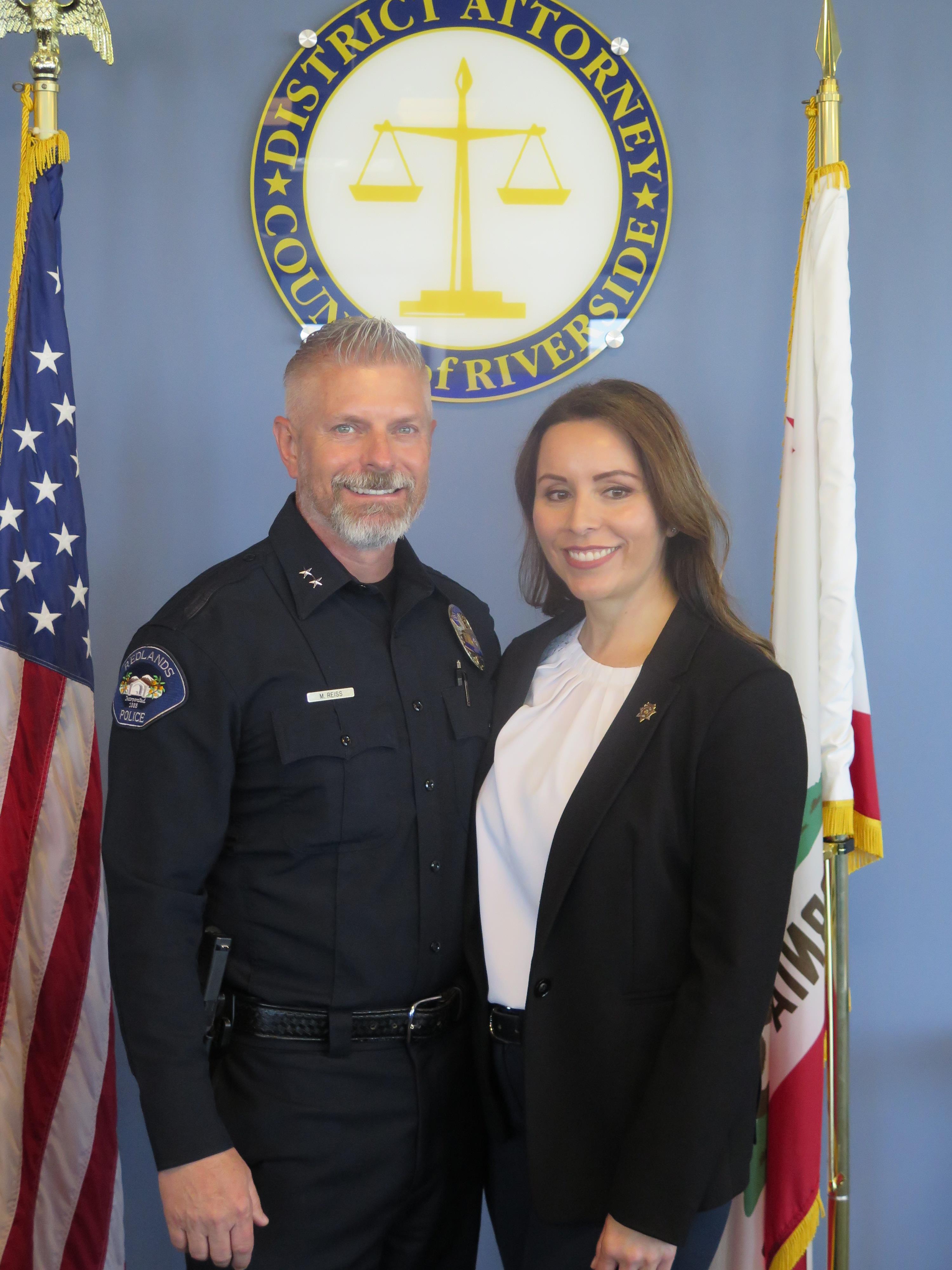 "The longer I've been in this career, the more confident I am in doing the job," she said. She doesn't let someone thinking she can't do something distract her.
One of Natasha's closest and strongest supporters has been her husband of 16 years, Michael Reiss. He is a Deputy Chief at the Redlands Police Department.
"Being married to someone in policing, we both understand the pressures of law enforcement," she said. "We try not to talk about work too much. That helps create a stable home life.
"He has been very supportive," Natasha says of her husband. "Every time I have promoted, I've discussed it with him, so it doesn't impact our home life."
It is important to Natasha to be a powerful representative not only as a Hispanic but as a woman.
"I hope women can see that it is possible for you to juggle it all – being a wife and mother and having a career you love," she said. "It certainly is not as difficult when you have the right support. That makes it all attainable."
Natasha reflects on what her achievements can mean to all young women, including her own daughter.
"Any female really can attain any role they want," she said. "If a young girl can see something in me that can help her out; that makes me really happy."
###