GANG IMPACT TEAM OPERATION KEYS IN ON THE BANNING-BEAUMONT PASS AREA
November 20, 2019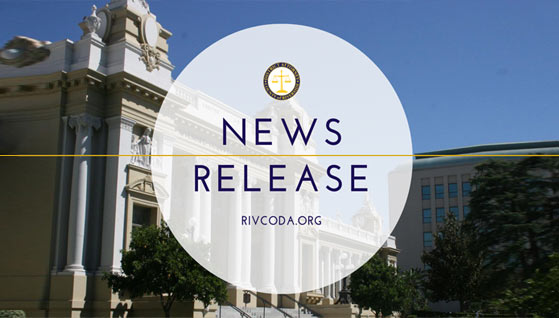 RIVERSIDE – More than two dozen people were arrested and numerous weapons seized today, Nov. 20, 2019, during the culmination of an ongoing operation by the Riverside County Gang Impact Team, which is supervised by the DA's Bureau of Investigation.

Today's operation, dubbed "Operation Pass Resolve", saw 19 teams of local, state, and federal law enforcement officers target 65 locations from the Banning-Beaumont Pass to the Coachella Valley, and Hemet and Menifee areas, as well as in San Bernardino and Los Angeles counties. Of those 65 locations, 29 were targets of Operation Pass Resolve with an additional 36 being searches of individuals in the area on parole or probation. 

Today, 23 of the29 targeted suspects were arrested with another six not yet located but being actively sought by law enforcement officers. There were also seven additional on-site arrests made of individuals not originally sought in the operation. Those seven included outstanding warrants and drug-related arrests. 

At a location in Hemet during one of the probation searches, a man with an outstanding warrant for murder and vehicular manslaughter was arrested. The case involves a 2018 incident in which he is charged with driving under the influence when his vehicle struck a motorcyclist in Menifee. 

One of the teams involved was assisted by Huntington Park Police Department serving a warrant in that Los Angeles County city where one man was arrested and six firearms and a pound of methamphetamine were seized. 

The primary focus of Operation Pass Resolve has been to reduce crime and violence while targeting organized crime, wanted felons, and those trafficking weapons and drugs. 
During the last 15 months, the Gang Impact Team (GIT) had previously made 18 arrests and recovered 23 firearms from the pass area during Operation Pass Resolve. 
Since GIT's last major operation, called Valley Vigilance II in the Hemet Valley area which culminated in August 2018, the team has been actively working criminal investigations throughout Riverside County under the "resolve" title resulting in an additional 126 arrests and the recovery of another 197 firearms.  Additionally, since Operation Valley Vigilance II, GIT has seized 71 pounds of methamphetamine, 55 pounds of cocaine, three pounds of heroin, and 1,100 fentanyl pills.  

The Riverside County Gang Impact Team is supervised by the District Attorney's Bureau of Investigation and is made up of investigators and agents from the DA's Office, Homeland Security and Investigations, Bureau of Alcohol Tobacco and Firearms, U.S. Border Patrol, the California Department of Corrections and Rehabilitation's Special Services Unit, and detectives from the Beaumont, Banning, Hemet, Palm Springs, Cathedral City, Desert Hot Springs, and Corona Police Departments.