Summer Externship and Attorney Recruitment Information

September 5, 2023
When it comes to choosing an internship or externship, law students should aim for a holistic experience—one that imparts real-world skills and experiences, invaluable networking opportunities, and serves as a genuine test for that profession. At the Riverside County District Attorney's Office, we have carefully crafted an externship promising all this and more. If you are a budding legal talent, you should consider spending your next summer with us.
Spanning across the golden days of summer, our externship lasts a comprehensive 10 weeks. This time frame provides adequate opportunities to not just learn about, but to immerse yourself into the prosecutorial world of Riverside County in Southern California.
We are host to a melting pot of talent. Our externs attend law schools throughout the regions. This presents a fantastic opportunity to interact, learn, and build lasting connections with peers from many different backgrounds and schools.
You will learn about every role, not just the attorneys. Law is as much about teamwork as it is about statutes, courtrooms, and arguments.
Image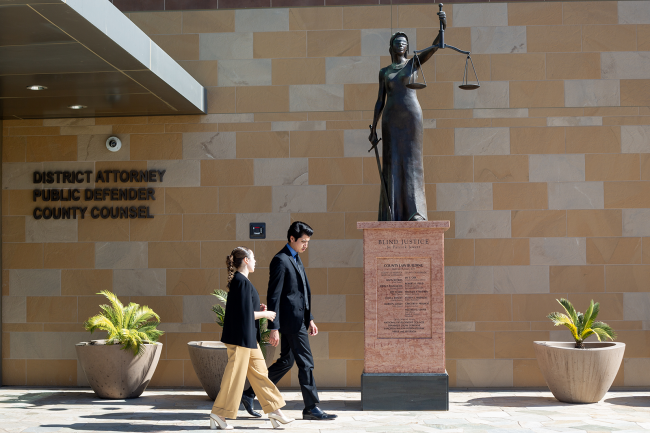 "The program has many field trips, such as visiting jails, prisons and police ride-alongs. This helped me better understand my role within the office and how we all work together to better the community," said Gloria Cenizo, a student from the University of California Law in San Francisco who hails from Mexicali in Baja California, Mexico.
Riverside County is vast and diverse. To ensure an authentic and wholesome experience as a prosecutorial extern in Southern California, each extern is strategically placed in one of our four regional offices. These locations include Riverside, Murrieta, Indio, and Banning. Doing so offers varied experiences and case types, giving you a broader perspective of prosecutorial work.
Last summer, we proudly hosted 38 hard-working law students and aspiring prosecutors. We consider having dozens of participants each year to be a testament to the value and quality of our program.
Image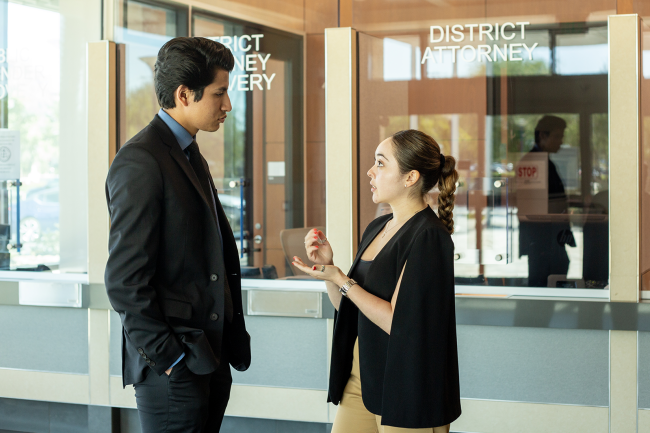 "This program provided me the opportunity to gain invaluable knowledge about the research and writing necessary for success in the field of criminal law," said John Contreras, a student from the University of La Verne College of Law who hails from Chino Hills, California. "It has allowed me opportunities to witness a multitude of trials, and learn the strategies of a successful advocate."
The core of our program lies in our commitment to thorough training. Externs practice, research, and train in several areas crucial to prosecution. This includes, but is not limited to prosecutorial ethics, evidence, courtroom and criminal procedures, courtroom advocacy, and legal writing.
First-years, we've got you covered! If you're a first-year student, you won't just be relegated to fetching coffee or making copies. You will get your hands dirty with essential tasks, handling trial reports, writing assignments, and conducting in-depth legal research. We adamantly believe in nurturing talent directly from the get-go.
For our more advanced second-year students, the courtroom beckons! You'll hone your courtroom advocacy skills, participate in preliminary hearings, tackle courtroom motions, and engage in negotiations. What's more, many of our externs even get the opportunity to conduct or assist in real jury trials. There is no better way to experience the adrenaline of a courtroom as an extern.
Image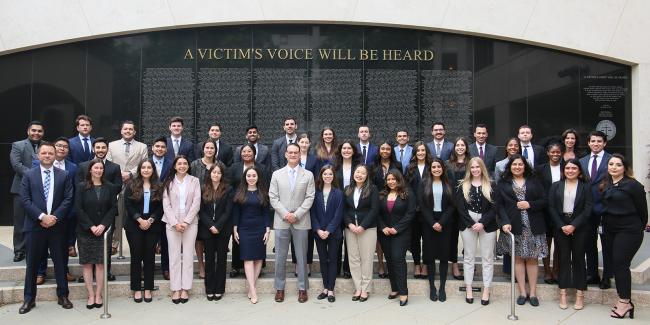 As a training and education hub for future attorneys, we put the safety and wellbeing of our communities first. Our office seeks to ensure we continue to do the best work that can be done to represent the People in court.
"Through this process, we seek to identify, develop, and evaluate the next generation of outstanding Riverside County career prosecutors," said Deputy District Attorney Michael Romney. "It's all about finding people, bringing them in, giving them a good look and hiring the best ones."
If you are an ethical and courageous prosecutor who is ready to put your education and training to its best use, then you may be ready to join our force of justice at the Riverside County District Attorney's Office. We do the right thing for the right reason, every time.
If you are a law student interested in this program, please send your resume to the extern recruitment coordinator at externshipprogram@RivCoDA.org. If you are a post-bar or practicing attorney interested in joining our team, please reach out to our attorney recruitment coordinator at AttorneyRecruitment@rivcoda.org.