A Survivor's Story
October 29, 2020

29
Oct
2020
A Survivor's Story
Sitting at the head of a large conference table, she openly shares details and experiences that just a few years ago could have resulted in her being horribly beaten. Or worse.
Gathered around the conference table were more than a dozen people she would have never considered talking to before. Afterall, these are cops. And she is a survivor of human trafficking.
"Even today, I still feel some guilt talking to you guys and putting him in jail," Jane said.
Jane - not her real name to protect her identity - was only 15 when her exploiter befriended her in the Riverside County condominium complex where she lived with her mom. On the surface, Jane's life at the time seemed like that of any other of a teenage girl. This older guy from Los Angeles visiting others in the complex saw Jane and took an interest in her. They exchanged phone numbers.
That's where Jane's story begins. But, unlike far too many others like her who become human trafficking victims, thankfully the new chapters in her life story continue to tell her story of survival.
In August of this year – exactly five years after her mother first reported her missing at the age of 15 – Jane and her mother did something rather unusual. They met with 14 members of the Riverside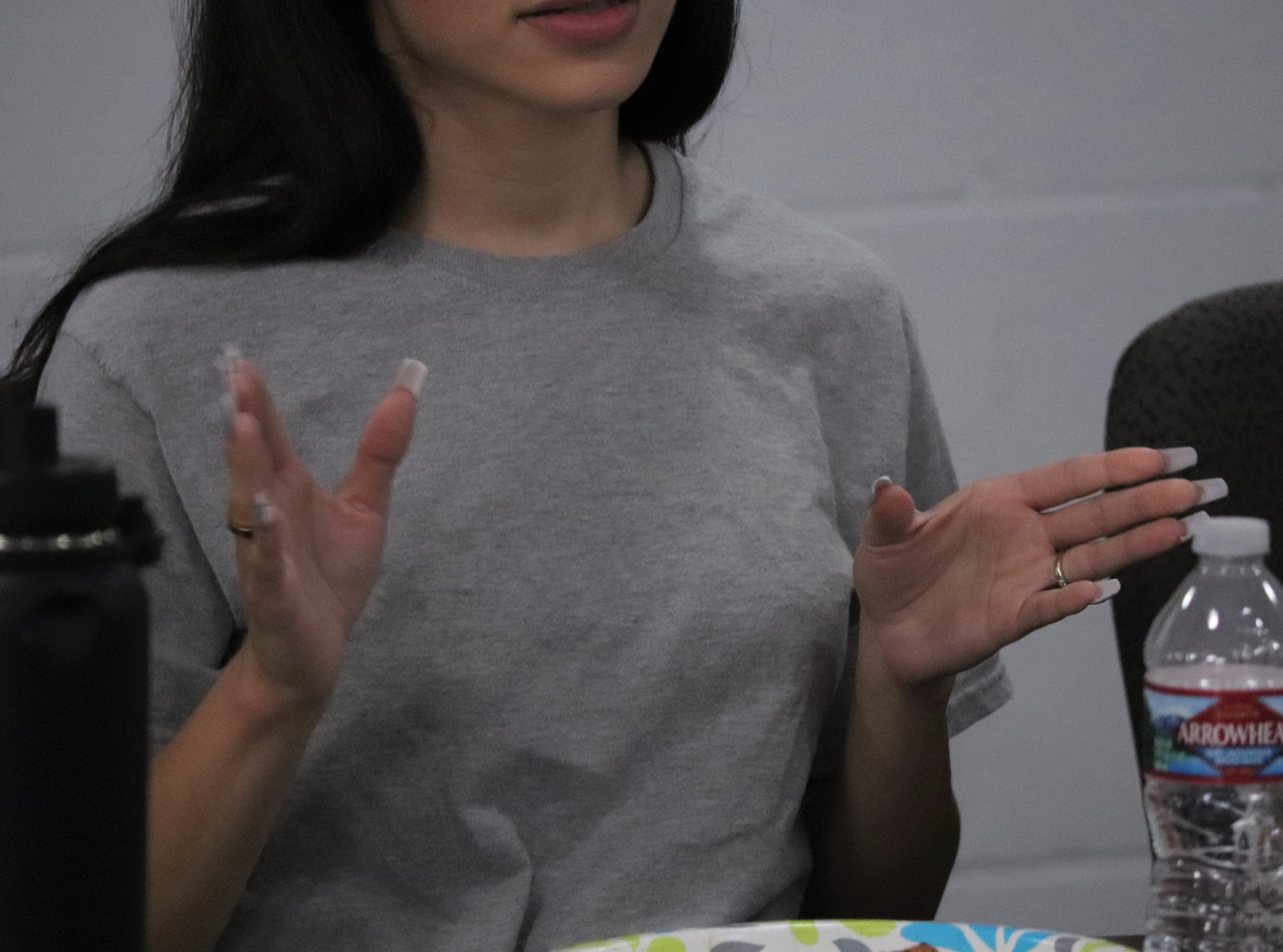 County Anti-Human Trafficking (RCAHT) task force to share the unique perspectives of a survivor and her mother with the hope of helping others like them.
In the 10 years since the task force first formed, this was the first time there had been an opportunity like this. Listening intently, they asked questions and learned all they could from Jane and her mother.
"There was so much more to the story," said Riverside County sheriff's Investigator Brian Robertson, who was the lead investigator in Jane's case. "I thought I had most of the detail but was definitely lacking a lot of it."
Jane's story of falling victim to her exploiter starts in August 2015 when her mom discovered her daughter was missing. She reported it to authorities and then began her own search into what may have happened.
On their home computer, she found online chats her daughter had been having with a stranger. Then the discovery of something that would terrify any parent to the core: Ads on Backpage.com with photos of her teenage daughter and wording she knew was used in human trafficking and commercial sex acts.
Digging even deeper now, determined to find her daughter, she was able to figure out at which hotel the photos were taken. That led to the Los Angeles County Sheriff's Department rescuing her daughter and returning her home. Unfortunately, authorities were unable to gather any information at that time about Jane's exploiter.
Then, just when it looked like Jane's story would end well, she ran away from home again a few days later to reunite with her exploiter.
Jane described the relationship with this man as "somewhere between a boyfriend and a dad." But when she had the perfect opportunity to get away from her exploiter forever, the teen girl instead felt she had to return to a life that she perceived to be better than the one at her own home.
"I thought then that life on the street was way better. It was a freedom I never had. No 15-year-old wants to be told what to do," Jane told the task force.
"I went, in my mind, from having nothing to having my own phone, Snapchat, being able to walk anywhere, and go to the store," she said.
That, authorities say, can be one of the many ways that human traffickers brainwash and feed on the emotions of their young victims – making them think this life is the better life.
One of the many common myths about human trafficking is that victims are held against their will, or locked in, or physically unable to leave their situation. According to the Polaris Project, an international organization battling human trafficking since it was founded in 2002, that can sometimes be the case. More often, however, victims stay for more complicated reasons including being afraid for their safety, lacking a way to get out, or as in Jane's case, they are so effectively manipulated that they don't see at that point that they are under the control of their exploiter.
After the second time Jane ran away to be with her exploiter, the Riverside County Anti-Human Trafficking task force assumed the investigation. Four long days of exhaustive investigative work later, they found Jane.
But Jane wanted nothing to do with these cops. No way she was going back home or turning on the man she considered "somewhere between a boyfriend and a dad."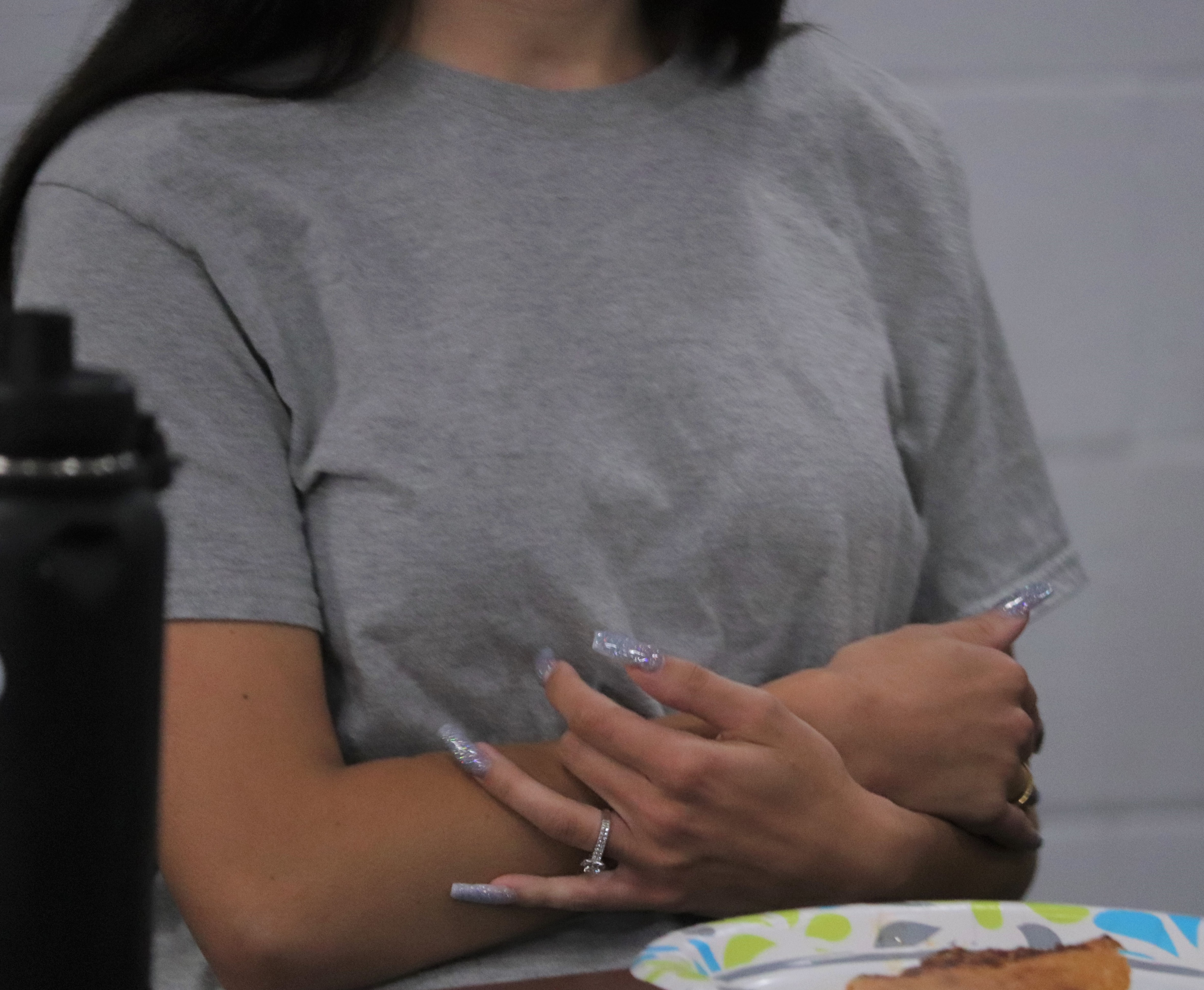 So, Inv. Robertson came up with an idea that the task force hadn't used before. They placed Jane under a 72-hour Welfare & Institutions Code section 5150 hold, which is typically used to evaluate if someone may be a danger to themselves or others.
"I knew she would run again, and I would probably not find her, or it would be nearly impossible," Robertson said. They felt Jane would certainly be in personal danger if she ran away a third time and went back to her exploiter to be trafficked again.
"I knew we needed to hold onto her until we could get her into some kind of lockdown facility, which doesn't really exist here in California for human trafficking victims," Robertson said.
"Luckily, her mom was fully involved and knew of a facility (out of state) and got her daughter in there," he added. "So, ultimately, time, distance, and good counseling got her right."
After months of counseling at the out-of-state facility, Jane surprisingly asked to speak to the investigator in her case. Robertson went there in December 2015 and talked to Jane over a two-day period. That led to the identification of Jane's exploiter and he was charged by the Riverside County District Attorney's Office. He eventually pled guilty to human trafficking of a minor.
Sitting at that conference table five years after Jane first ran away with the man who trafficked her, one of the task force members asks Jane what her mom could have done differently to prevent this.
Jane looks at her mom, sitting to her left and they smile at each other.
"I can't even give her advice because she did everything right," Jane says, admitting she started "acting out in sixth or seventh grade."
Her mom responds with, "In hindsight, maybe I could have had more one-on-one quality time with her."
Task force members asked Jane for tips on how she thinks they can work better with human trafficking victims to help get them out of "the life".
Speaking confidently from her own experience Jane says of victims like her: "You just want to feel comfortable and be in a safe place and not get anyone in trouble.
"You want to feel heard. You don't want them to talk to you like you are a horrible person," she adds.
Task force members spent a couple hours listening to and asking Jane and her mom questions, all with the hope they can help more human trafficking victims like Jane become human trafficking survivors like Jane.
"I think she is one of the bravest kids I know," Robertson, the lead investigator in Jane's case said. "It takes a strong person to get out and get right and then come talk about it to a bunch of cops."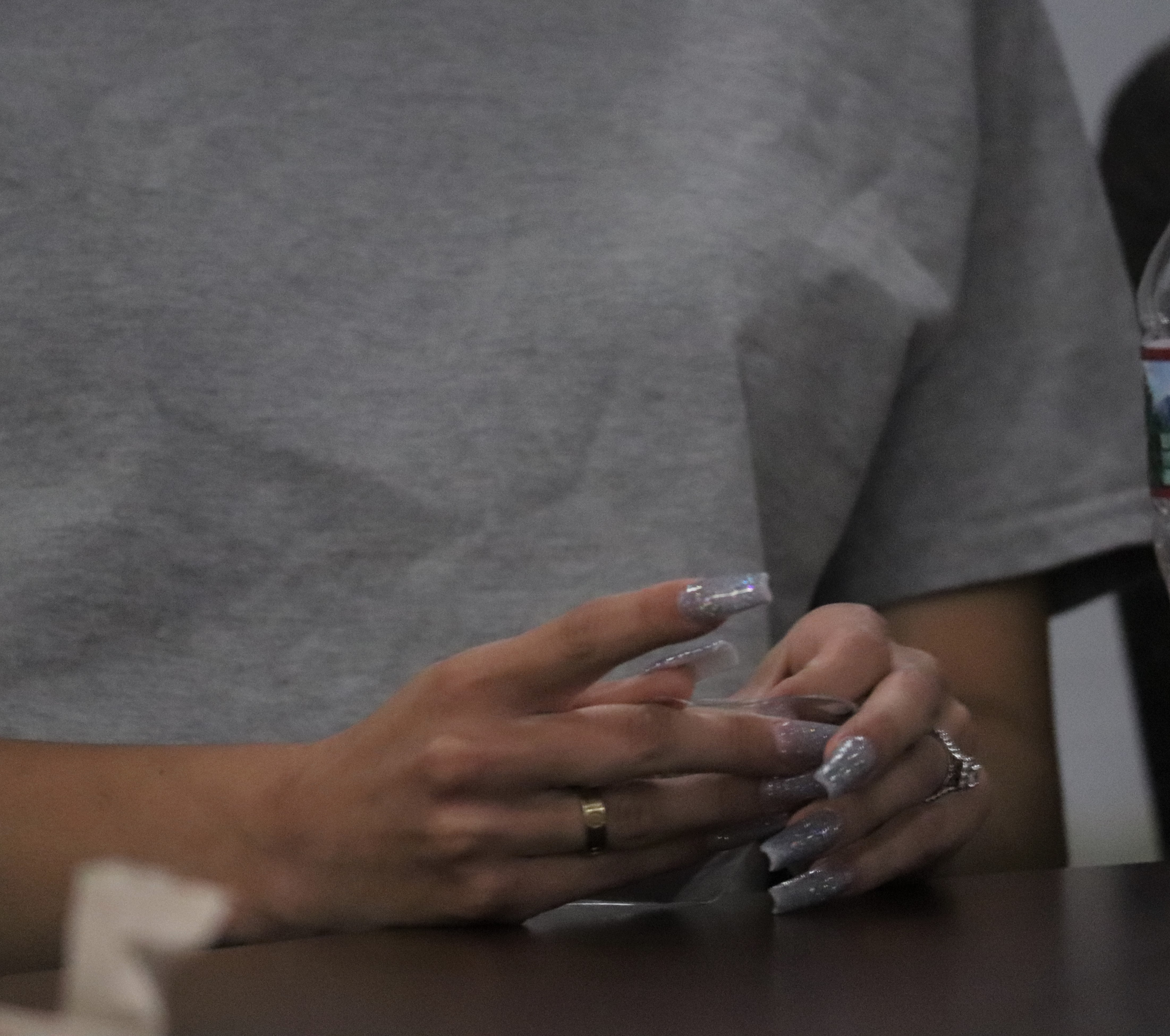 And "get right" Jane has.
When she was first with her exploiter, he "branded" her by having his "moniker" tattooed on her body, a common way for exploiters to show ownership of their victims. After coming back home, she went through several months of painful tattoo removal and had the rest covered with a new tattoo.
Since she got out, Jane has graduated high school "with mostly A's", she proudly tells the group.
And, like a typical young woman her age, she is more than happy to show off the ring on her left hand. Jane is now engaged and has a one-year-old child. She's also enrolled in college and wants to become a nurse. So she can help people.
Jane is a survivor.
_________________________________________________________________
The RCAHT task force is a multidisciplinary task force which combines the investigative resources of both local and federal law enforcement. The law enforcement component of RCAHT is currently composed of the Riverside County Sheriff's Department, Riverside County District Attorney's Office Bureau of Investigation, Homeland Security Investigations, and the FBI, along with part time participation of the Hemet, Riverside, and Desert Hot Springs police departments.
If you or someone you know may be a victim of human trafficking, you can call the Riverside County Anti-Human Trafficking task force's 24-hour toll free hotline at (855) 758-3733 or the National Human Trafficking Resource Center at (888) 373-7888.
Learn more about the various types of human trafficking, or find facts and resources go to the Polaris Project website here: https://polarisproject.org/
More information can also be found at: https://www.riversidesheriff.org/QuickLinks.aspx?CID=48